Check out our cool collection of Christmas porch decoration ideas. Your front porch is the first thing people notice when they look at your home. Embrace your visitors with a festive holiday display at your threshold. Let the sights and scents of the Christmas season wrap your family and friends in warmth as they step into your piece of the world.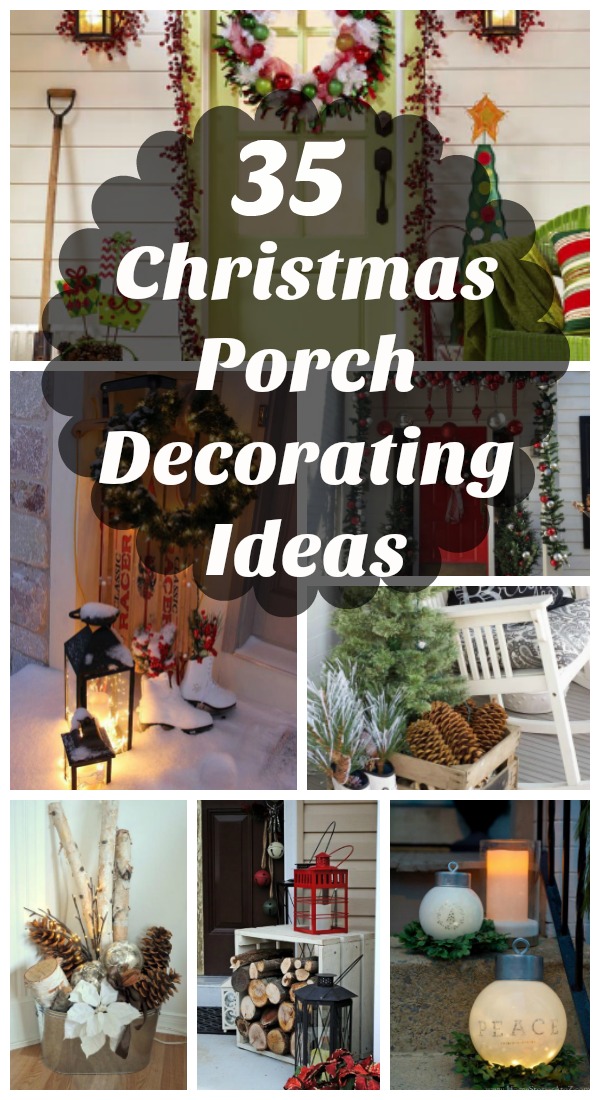 If you are looking for some inspiration in decorating your porch this holiday season, you've come at the right place. Here, we collected some of the best and most wonderful Christmas porch decorating ideas that will surely inspire you. Take a look at these christmas decorations for your porch and front doors.
YOU MAY ALSO WANT TO READ:
Welcome Home
Capture the spirit of the holidays with a hanging garland of greenery and a glorious door wreath.  Flank the steps with bunches of lighted evergreens and your guests will feel a welcoming embrace.  Add a little mistletoe and you might just get a surprise smooch!
Holiday Whimsy
Plaids and stripes work well together in this whimsical corner of holiday cheer. Tempt the most curious of your visitors with holiday boxes holding hidden treasures.  Top it all off with some greenery and holiday signage and your hall is officially decked.
Signs of Winter
A perfectly placed sled accompanied by a pair of ice skates create the atmosphere of wintertime merriment.  Add the warm glow of a pair of lanterns and a strategically placed wreath and you have the makings of an enchanted winter welcome.
Red, Silver and Green
Like notes on a sheet of music, these Christmas bulbs dance across the entryway toward the gorgeous wreath adorned red door.  Small evergreens flank the threshold to create an all around festive feeling.
Little Red Wagon
Loaded with luscious red poinsettias and twinkling with clear lights, this little red wagon is pulling off a grand display.  Throw in a gorgeous embellished garland and one dazzling door wreath for a dashing front porch display.
Via: The Kim Six Fix
Light The Way
Let this collection of radiant lanterns light your footsteps toward a simply adorned front door.  Pillars bathed in the glow of white lights accent the already warm and inviting entrance to this home.
Fab and Glam
You can almost hear the sleigh bells ringing in the background as you feast your eyes on this winter wonderland of holiday trimmings.  Loaded from top to bottom, the entryway boasts gleaming garland and a pair of festive wreaths.  This symmetrical design works well with the landscaping of two large snow covered evergreen trees.
Star Light, Star Bright
Follow the brightest star and it will lead you to a place of splendor.  This jovial front porch does just that.  With a pair of twin poinsettias and the shimmer of bulbs and lights, a magical display evokes a feeling of holiday warmth.
Warm Glow
The best things in life don't always have to come from a store.  A walk through the woods inspires this natural concept in holiday decorating.  A generous display of evergreen boughs coupled with fresh fruit and a glowing lantern create a nature-inspired welcome home.  Throw in a handcrafted star fashioned from twigs and you have a warm and welcoming winner.
Rustic Porch Decor
A shiny metal bucket overflowing with the bounty of the outdoors captures the essence of seasonal decorating.   Nestled in a corner or small space, the textures and hues of this display create a nature-inspired focal point.
Believe
Reminding visitors to believe in the spirit of Christmas is the message conveyed in this primitive holiday display.  The stenciled and weathered signage is flanked by an understated pencil tree and pair of skates.  Using a sled for a backdrop adds the finishing touch.
Signs of the Season
When the seasons change and the warmth of summer fades into the crispness of the holiday season, adorn your porch with the natural look of pine cones and evergreen.  Prop up a pair of boots along an old wooden crate to cast a rustic display as you sit in a rocker and feel the cold air on your face.
Cascading Beauty
The overstated scale of the Christmas wreath and huge silver balls displayed prominently in classic terra cotta urns lure visitors into this charmed residence.  This magnificent façade is simply dripping in holiday brilliance.
Simple Elegance
Cascading silver bulbs dangle sweetly from metallic ribbons as visitors dance their way up the garland adorned entryway.  A shimmering silver bag full of evergreen sprigs decorates the front door this holiday season.
Joy to All
Reclaimed wooden boards work well as the foundation for this joyous holiday reminder.  Sprinkle around a few lanterns and some holiday garland to enchant your visitors to some homespun holiday fun.
Vintage Decor
Transform your front porch for the holidays with an array of seasonal items.  A sled serves as the perfect anchor piece for this festive winter display.  The addition of a lantern and bucket of oversized pine cones work well to bring warmth and coziness to this home.
Fancy Red and Balls
Heighten the feeling of merriment at your home with a pair of overstated urns.  Filled to the tippy top with a series of graduated shimmery bulbs, this display makes you feel like some big and bold things must be happening on the other side of that front door.
Monogrammed
Make your entryway a personal statement to all who enter.  A monogrammed sled sharing the news of when your house became a home will warm the hearts of visitors.  Accented with an evergreen swag adds even more beauty to the lovely family symbol.
Warm up By The Fire
Give your guests the feeling like they just arrived at a cabin in the woods with a strategically placed rustic crate of fire wood.  Throw in a couple lanterns in case the power goes out and you have all the bases covered for a warm escape from the busy world.
Spread the Word
Use your front porch to share the message of the holiday season.  This rustic chalkboard serves as a focal point for the primitive décor leading visitors to the wreath adorned front door.  Add some cascading ivy and a big pile of firewood and you won't have to worry about cabin fever this winter.
Wrap it in Red
Who wouldn't want to run onto the porch and tear open those glorious red and white striped gifts. Build anticipation for the big day with a display of wrapped boxes and oversized red velvet ribbons.  Flanking the doorway is a pair of lighted symmetrical trees.
Peace Bulbs
Convey the message of peace with an etched replica holiday bulb.  Illuminating the steps is a collection of chic and modern pieces accented on a bed of holly.
Wreath Trilogy
This charmed entrance will beckon your guests past the exquisite lanterns and concrete urns.  A trilogy of evergreen wreaths hang boldly on the entrance door.  These traditional colors and textures are timeless holiday favorites.
Joyous Welcome
Adorn your steps with a simple message of JOY this holiday season.  Three miniature evergreen trees parade down the steps sporting the reminder of the joyous spirit of this time of the year.
Festive and Colorful
The color of the front door to this charming home sets the stage for a lighthearted and fun loving holiday display. Patterns and shapes all come together to create a chorus of beautiful outdoor décor.  It just works!
Golden Glow
Pull up a rocker and soak in the holiday spirit created by the golden glow of twinkling lights.  Covered with illumination, the trees and wreaths sparkle and shine.  Adorning the front door is a woven basket filled with evergreen sprigs.  Come and sit a spell beside the glowing collection of warm pillar candles.
Draped in Splendor
Turn your eyes towards the star.  Popping with Christmas splendor is a brightly painted door draped in an amazing evergreen garland.  Two festive trees dripping in gold bulbs take this front porch to a whole new level.
Rustic Simplicity
Galvanized tin pails grace a quiet corner with natural delight.  Filled with lighted twigs and evergreens, this rustic charmer conveys a message of simpler times.
Surprise, Surprise
Create a look of holiday bustle on your front porch with a collection of packages and a vintage chalkboard.  Throw in a pile of kindling and a Christmas tree to capture the magic of the holiday season.  The contrasting red and green hues add a retro-inspired dimension to the area.
Traditional Homecoming
This front porch looks like it jumped right off a Christmas card.  The traditional greenery and red ribbon accents coupled with the evergreen trees and poinsettias showcase everything we have come to love about this joyous time of year.
Christmas Candy Lane
Looks like Santa's elves did the decorating at this jovial entryway.  Beaded garland and polka dot accents turn this area into a playful display.  Red and white striped boxes add the allure of surprises to come.
Tools of the Trade
Seasonal garden tools create a practical, earthy feel to this holiday décor.  A nature-inspired theme evokes a casual feel to this front porch.
Holiday Grandeur
Sumptuous greenery protrudes for the base of this stately candle- filled lantern.  Accenting the display is a single over-sized red bulb that gives just the right pop of color to this classic luminary.
Just Believe
All eyes turn upward when approaching this glorious front entrance way.  The BELIEVE signage hangs prominently overhead as a reminder of the importance of believing in things not always seen with the eyes.  Garland wrapped pillars and accented front door all work together to embrace the spirit of Christmas.
The Grinch Getaway
You don't see a holiday themed front porch like this every day.  Wow!  Whimsical and fun, this Grinch inspired décor will have your friends and neighbors smiling.  An oversized stocking complete with turned up toe graces the front door and striped stocking caps poke up from the urns.  Capped off with a garland drenched in decorations and you are ready to welcome your guests to some merry making holiday fun.