Christmas Poems: Christmas is celebrated every 25th of December. The happiness and joy that you can feel during this season cannot be explained. It is the perfect time to be with your family, friends, and love ones. Everywhere you can hear bells ringing, Christmas songs playing, and the children singing. As you look outside your window, you could see the people playing in the snow and having a great time with everybody. One of the most memorable childhood experiences that children usually have happens during this season. The essence of Christmas is really to give love and share the blessings that you have.
Christmas Poems for Cards
During this season, children are the ones that are most excited because this is the time that they would receive gifts and have new toys. They also love caroling from house to house and greeting everyone a Merry Christmas. Never forget to thank God for everything that you have. As you send a Christmas greeting, it would be great to have a poem that would inspire them not only this Christmas but throughout their lives. This would show how sincere you are in sharing your love and care for them. MERRY CHRISTMAS!
Poems About Christmas
It's really nice to read some fun poems about Christmas as the holiday approaches. As a kid, I used to write some short Christmas poems in a Christmas card and send them out to my friends in school. Although some of those are very short and simple, they like idea of receiving something like that. If you wish to send out cards this Christmas to your friends and can't find the words to greet them, you may choose from these short yet good Christmas poems.
CHRISTMAS SEASON
Christmas season is already in town,
Let us spread the love to everyone around.
Have fun and enjoy with the friends you found,
And everywhere you will hear a laughing sound.
Christmas season is about giving gifts,
Always remember your nephews and niece.
Just recall how much happiness this brings,
For it is always better to give than to receive.
Christmas season is felt by everyone,
So there is no reason for you to be with no one.
Share the joy and love with everyone,
And you will be blessed by the Almighty One.
Christmas season really makes us see
How beautiful the world we live in is.
Be contented of what you have and who you are with,
And you will definitely experience happiness and peace.
Christian Christmas Poems
If you are looking for Christmas poems that reflect the faith, belief of Christians, you're at the right place. Whether you're gonna use it for a card or simply want to share to your friends for inspiration, these samples of Christian and inspirational Christmas poems may be of help for you. Enjoy!
CHRISTMAS SPIRIT
The wind is blowing with the cold breeze air,
The children are singing everywhere,
The laughter and joy are always shared,
These are signs that Christmas spirit is in the air.
The love that we give will always be felt,
The messages we convey will also be sent,
The poor and the needy will now be fed,
These are signs that Christmas spirit is not yet dead.
The people everywhere are having fun,
The fathers are bonding with their son,
The quarrels and fights are already done,
These are signs that Christmas spirit is not yet gone.
Christmas Poems that Rhyme
SHARE ON CHRISTMAS DAY
"Loving is sharing, and sharing is loving"
This is a phrase that we've all been hearing.
It is time to prove that this saying is true,
For Christmas is already here with me and you.
Honor and praise for Jesus is coming.
Be thankful to God of what you are receiving.
Say "thank you" for you still have something to cook,
And share it to others who have no food.
It is time to think of what we've been doing.
Is there a good place where the world is going?
Change the things that would hurt others and you,
And focus on deeds that would only do good.
Remember that all lives are worth living.
There's always a purpose of what you are making.
Keep in mind that you have someone to turn to,
Never feel blue for God is always with you.
Christmas
Carols and candles aglow in the night,
Hearth fires blazing all cozy and bright,
Red-leaved poinsettia, white Christmas rose,
Ice skaters whirling on ice as it snows,
Sleigh bells and Santas,
Tinsel-trimmed trees,
Mistletoe magic and warm memories,
Angels all bringing glad tidings anew,
Season's best wishes especially for you!
Santa
Santa comes on Christmas Eve
Seeking those who yet believe
Through a frosty winter night
In a sleigh with reindeer flight
Bringing joy to large and small
Merry Christmas one and all.
Merry Christmas Poems
Do you want to greet your friends, family and relatives this Christmas with the use poems? Well, you've got the perfect choice. Surely, they'll love these simple and short Christmas poems that can be used as Christmas card wordings, etc.
CHRISTMAS TIME
Pine trees that are high,
Give light at night,
They shine so bright,
It's Christmas time.
Stop the fight,
Make everything right,
Give love tonight,
It's Christmas time.
A greeting you'll like,
In a card that you'll find,
Just always smile,
For its Christmas time.
MERRY CHRISTMAS!
Everyone is jolly,
Everyone is happy,
We call this Christmas,
And it's time have fun.
Do not be gloomy,
Appreciate the beauty,
Just look at the stars,
And wish what you want.
No time to worry,
No need to hurry,
It's time to relax,
Be thankful and be glad.
Never feel lonely,
You have a family.
I give you this card,
To say Merry Christmas!
Christmas Poems for Kids
If you're searching for poems that you and your kids would like to enjoy this holiday season, this section is for you. Here are some short and cute Christmas poems for Children written suitable for kids and young at heart.
SANTA ON CHRISTMAS
Get ready this Christmas,
For Santa will come.
He'll be giving toys,
The ones that you'll love.
You should be nice,
And never be naughty,
Because if you do,
He will give you nothing.
The ride that he has,
Are reindeers and slay,
With Rudolph in front,
As the light and the way.
For the whole year round,
You should be a nice kid,
So they'll drop your gifts,
Through the chimney in your place.
CHRISTMAS DAY
The lights are blinking,
And the stars are twinkling,
With the moon giving light,
That serves guide through the night.
A feast in the table,
To be served in every home,
Time to celebrate the night,
With these lovely people.
As the Christmas songs play,
And children caroling their way,
Feel the spirit of Christmas,
Through everyone's good heart.
Christmas lights and trees,
How wonderful it really is,
Place the gifts under the tree,
For the children wants to see.
Christmas Poems about Jesus
Christmas Day is known to be the day when the Christ was born. Don't forget the essence of celebrating Christmas season by reading these religious Christmas poems focusing on Jesus.
CHRISTMAS FEAST
I'm on my way to where I stay,
The road is white and trees have lights.
The stars in the sky that shine so bright,
With the cold breeze air and a lovely sight.
Christmas day is very near,
Christmas spirit is really here,
Take away all those fears,
Just be happy and let us cheers.
Fruits and foods and turkey that's roast,
Grab the wine and have a toast,
This is the night you'll love the most,
For Jesus will come and you're the host.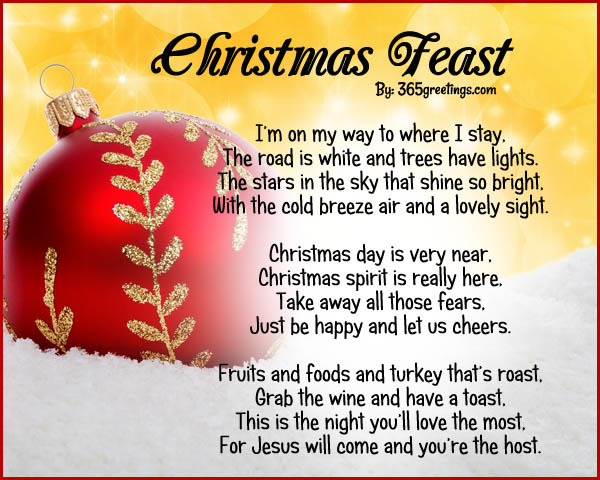 JESUS IS BORN
Praise the Lord,
He sent His Son,
The one who'll save,
Every man.
Christ the King,
"FOREVERMORE",
Be our guide,
And our light.
Christ the King,
The Son of God,
Lead us through,
To the right path.
Christmas day,
The day you're born,
Sent to the world,
To protect us all.
Christmas Inspirational Poems
Inspire and encourage this Christmas through these inspirational Christmas poems. Each line and stanza would surely give inspiration to everyone. Happy Holidays!
SHARE TODAY, IT'S CHRISTMAS DAY
Be generous today,
For it is Christmas Day.
Now share your blessings,
And hear the bells ringing.
The hungry should be fed,
And the thirsty should have drink.
No time to think,
For help is what they need.
Remember the teachings,
That Jesus has taught.
Bear in mind,
The words that He spoke.
Never be lazy,
To make others happy.
They're also humans,
Like you and me.
HAVE A MERRY CHRISTMAS!
This Christmas Day,
Remember His way.
It's Jesus' day,
For He has came.
How He spoke,
The Words of God,
And deliver the message,
Sent from above.
To love each other,
And care for each other,
This is a command,
Bestowed on us all.
We will be blessed,
If we do what He says,
Not only today,
But each and every day.
Christmas Poems for Friends
CHRISTMAS STAR
The biggest star,
That shines in the sky,
Is the light that guides,
The three kings tonight.
This Christmas day,
Our Savior is born,
In a manger that is simple,
And very small.
With Mary His mother,
And Joseph His father,
He'll spread the Words,
Of God the Father.
To teach us all,
Will be His mission,
And loving us all,
Is always His action.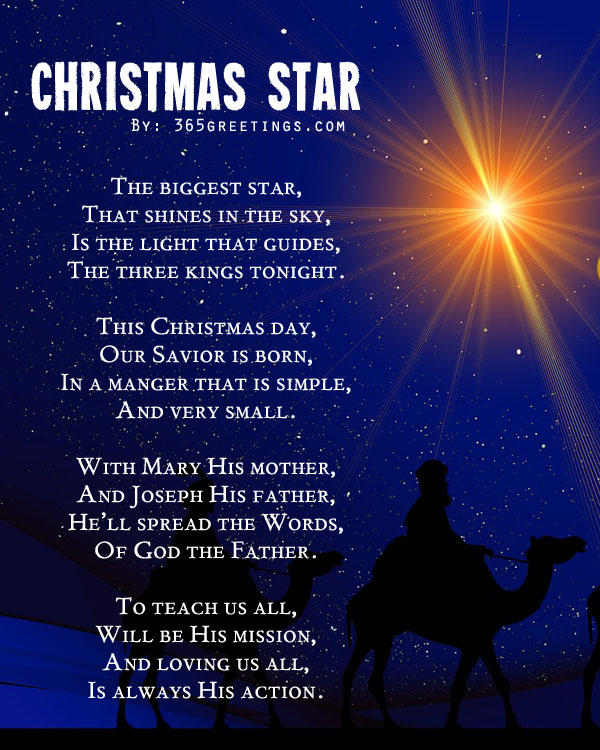 Short Christmas Poems
LOVE THIS Christmas
On this exact day is Christmas day,
So everyone should feel special on this day.
Set aside the sadness that you feel,
It's time to be happy and just be real.
The wonderful creation made by our Creator,
Should be taken care of by all of the people.
Even cats that stray and dogs nowhere to stay,
Should not be hated but rather be saved.
Never harm those who are afraid,
For they will feel more frighten and fear.
This is a thought to remind us all,
That it's best to give love when Jesus is born.
Christmas Poems for Cards
If you don't know what to write in a Christmas card, you may want to consider using short Christmas poems. You may choose some funny Christmas poems and attach to your Christmas greetings. Of course, don't forget to include your own Christmas messages on the cards and your recipient would definitely love it~!
CHRISTMAS FUN
Children are excited,
With the presents they see,
Eager to know,
What toys they'll receive.
The feast is prepared,
And the people are ready,
To fill their stomach,
That is still empty.
Stories are told,
By everyone in the room,
Don't know if it's true,
As long as we enjoy.
This is Christmas,
It's all about fun,
Forget about problems,
And don't waste time.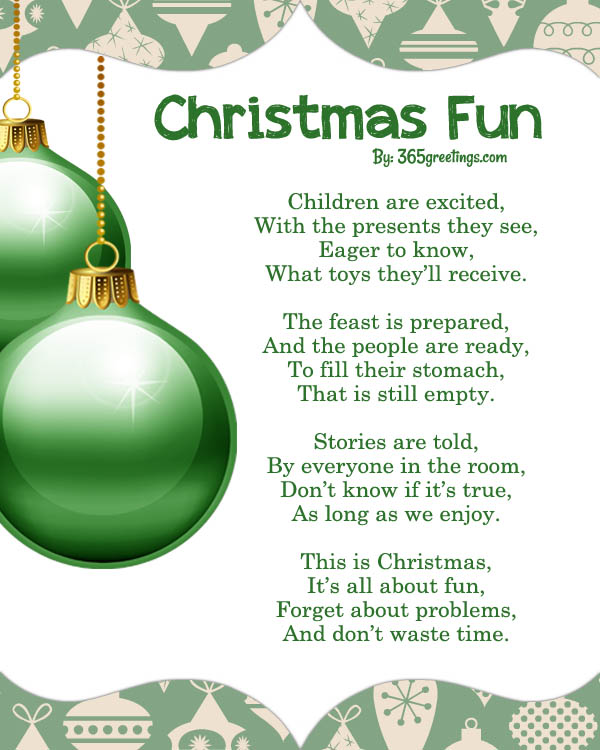 CHRISTMAS SIGNS
The Christmas tree in the middle,
The socks that hang on the wall,
The lights that sparkle at night,
These are signs that Christmas is on.
The angels on top of the tree,
The picture of Santa at homes,
The figure of a snow man in the road,
These are normal on Christmas Eve.
The wreath having four candles,
The manger where Jesus was born,
The big feast on the table,
Oh, how wonderful Christmas is.