Christmas kitchen decoration ideas and inspiration here: It has been a yearly tradition all around the world to celebrate Christmas. This is the year we decorate our respective homes especially in the kitchen where the whole family will be having its Christmas dinner or Noche Buena. It is a venue where the get together of the people whom you love the most happened that is why never settle for a less preparation for them.
Pin the below Proven images to make your board more popular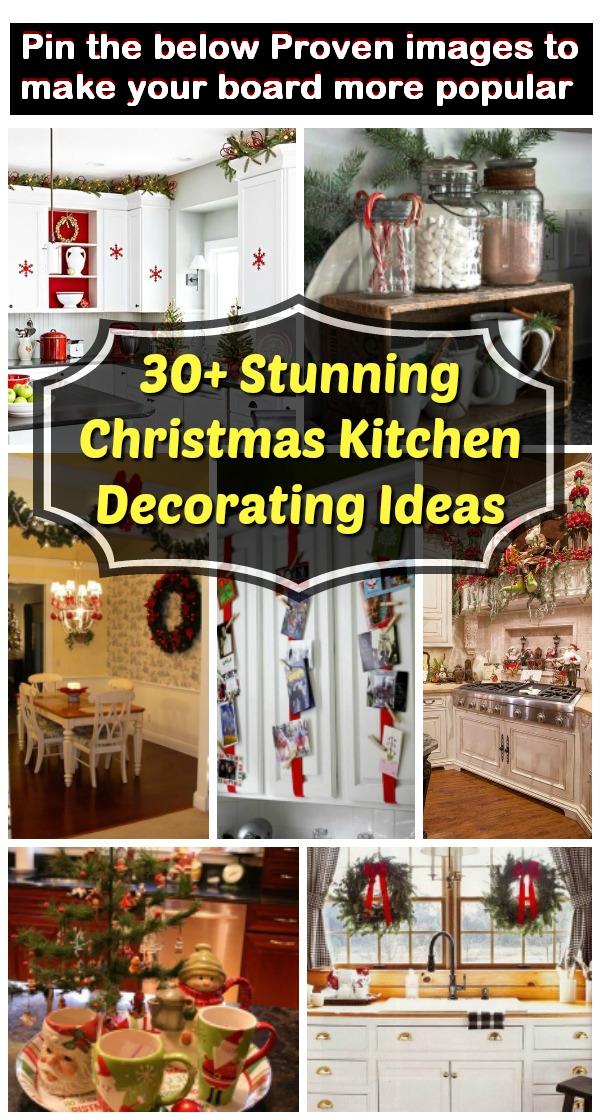 Give your kitchen a holiday treat to really feel the true spirit of this holiday season. It represent the central focus of our lives that even though everyone is busy with their job or school, the family still have a quality time for sharing and laughing with experiences in life. Kitchen is considered to be the heart of the home where favorite life memories and events happened. It is always a place of learning not just about cooking foods but also lessons about life were learned there than any other room in the house. Here are some of the ideas on how to help your lovable kitchen to get this ready this Christmas season.
YOU MAY ALSO WANT TO READ
Lovely Kitchen
You will surely adore your kitchen with this simple decorations to put up. If you have an L shaped kitchen, this is the best thing do during the holiday season. As you can see from the image, it looks elegant and classy.
Mini-Bonsai Kitchen
It looks like a small greeny bonsai with some red balls at the bottom. Display this in your kitchen for a holiday season and experience something new. It is truly cold outside during this Christmas.
Kitchen's Tree of Joy
This will truly give joy to the whole family while having dinner during Christmas season. The word JOY is printed on a white plate to give emphasis with the color. Their is a small artificial bonsai below and some white pigurines. You can found also brown pine cones that add up to its uniqueness.
Hot Cocoa Station in Kitchen
It is obviously a station of cocoa powders found in your kitchen during Christmas put in a reusable bottles and mugs. The taste of cocoa will surely sweeten the bond of the whole family while sharing the foods prepared for the celebration of the birth of our Lord.
Star Bright Kitchen
Witness a twinkling stars in you kitchen this Christmas with this beautiful arrangement of small stars put in windows. You will be more amaze if your kitchen have a deemed light. It will twinkle like a star in the sky.
Snowy Kitchen
The color red and white theme in the kitchen during Christmas is the traditional one. Many people used this as a Christmas decoration idea. It has snowy garlands scarttered .
Holiday Card Display on Kitchen Cabinet
Hang every Christmas cards you receive this season with the use of red ribbon. You are sharing to every member of your home the sweet message you read. They will feel the same with what you feel. You can put this in the opening of your cabinets.
Double Trio Wreaths
Put double trio green wreaths in your kitchen. This is very native with its theme. It is quite simple but adorable and pretty.
Cocoa Menu
This daily Christmas menu is made up of reusable bottles filled with marshmallows, cocoa powder and candies is not just sweet but also amazing. Use this as your guide during the holiday season.
Spirit of Christmas in Kitchen
The spirit of Christmas will be feel in your kitchen with this decorations put up in the entrance area. This is a common idea and most people use this. It looks classy and fantastic.
Elegant Kitchen
Give your kitchen the elegant look it needs. It has two green wrearths with red ribbons on it. It blends with the gold and white paint plus a stripe curtains added to it.
Red and White Kitchen
The most common theme of kitchen nowadays is the red and white. There is a garlands and Christnas lights attached in the ceiling. It has two small Christmas trees with red stars in every walls.
French Farmhouse Holiday Kitchen
This is a French inspired design of your kitchen with three candles. There is an ornament hanging above.  Celebration of Christmas would surely be a memorable one.
Holiday Mugs
This three holiday cups found under a mini Christmas is very beautiful. You can use this cup to drink water or other liquid during and after the dinner. if you want, you can put as many cups as you want depending on the number of members in the house.
Hanging Christmas Balls
Hang some Christmas balls above in your kitchen. The color of the balls depends in your preference and favorite. Some of the balls are polka dots inspire and other is stripes.
Easy and Quick Holiday Card Display
Have your Christmas cards be displayed in the kitchen doors. You are sharing lovable and sweet greetings to the whole family. To make it more attractive use red ribbon where you can attach every card you have.
Farmhouse Christmas Vignette
Be indigenous enough to use pinecones as one of your decorations this Christmas season. Your kitchen will be more classic and native than before. The best theme color for this is brown.
Native Kitchen
As everyone loves to decorate every part of their house, this would be the best idea of a native Christmas kitchen decorations.  It is very simple as color green symbolizes eternity.
1940's Christmas Kitchen
This idea of Christmas decoration will bring back your kitchen into 19th century. It is very classic as it appears ragged. Add up some ornament above rolled with Christmas lights.
White and Green Kitchen
This cute idea of combination of white and green theme of your kitchen will surely create a pleasant outcome. It is very simple but looks elegant. Put some garlands to add up its beauty.
Winter Kitchen
Some countries all around the globe experience a winter Christmas. For those countries that will not experience this, it is now your chance to witness. Use this theme as your Christmas kitchen decorating idea.
Christmas Castle Kitchen
This is like a kitchen in a castle. It has a friendly and young look. Your kids would surely love the environment in your kitchen as it appears pleasant to them.
Hanging Small Wreaths
These small wreaths are very cute and adorable. Paint all the cabinet with white color and see what your kitchen will look like. Yeah you see it right, it is very clean and pure.
Christmas Scrap Kitchen
It is made up of Christmas scraps. It is a little bit hassle when you are putting things up but you will surely pleased with the outcome.
Christmas Kitchen Pot Rack
Who would not love to decorate the top of their pot rack every Christmas season? With some garlands, ornaments and three Christmas gift this is will surely create a charming kitchen like this. It will beautifully enhance your home for the holiday.
Centerpiece Kitchen
This will bring the festiveness of Christmas inside your kitchen by putting some wreaths in the window. You can add some little vignettes, including this miniature hallmark tree with few vintage ornaments found under the tree.
Vintage Kitchen
This will captivate Christmas kitchen décor visualized with hanging mini wreath on a romantic way of celebrating Christmas. Treat your wife or husband this season by having a healthy conversation.
Vintage Bar-like Kitchen
It is very warm, earthy color palette painting. This will surely let everyone feels cozy and inviting with its vintage bar-like kitchen idea for the Christmas season.
French Kitchen
You will surely admire the beauty of your island kitchen with French design or them for the coming Christmas season. This is adorable and cute with colorful Christmas balls put up.
Dark Light Decor
Your Christmas will turn into a scary one with this dark light décor to be put in your kitchen. Add some brown pine cones. It is one of the beautiful center pieces in the kitchen for this holiday season.